Recently, the UK sanitary ware company Aquala, headquartered in Northern Ireland, announced the acquisition of 100-year-old British sanitary ware company Adamsez, which follows South Korean private equity firm E&F PE's acquisition of Italian firm Boffi's sanitary ware business, and the acquisition by the Italian company Clerici of all of the shares of the home-country company Prato Nobili, This is another recent acquisition in the foreign sanitary ware industry.
UK's century-old sanitary ware company was acquired
According to UK media reports, Adamsez, which Aqualla plans to acquire, is one of the oldest bathroom companies in the United Kingdom. It is famous for high-end bathtub products and is headquartered in Newtownz, Northern Ireland. In the next 12 months, Aquala will spend 1 million pounds (about RMB 8.82 million) to complete the acquisition of Adamsez.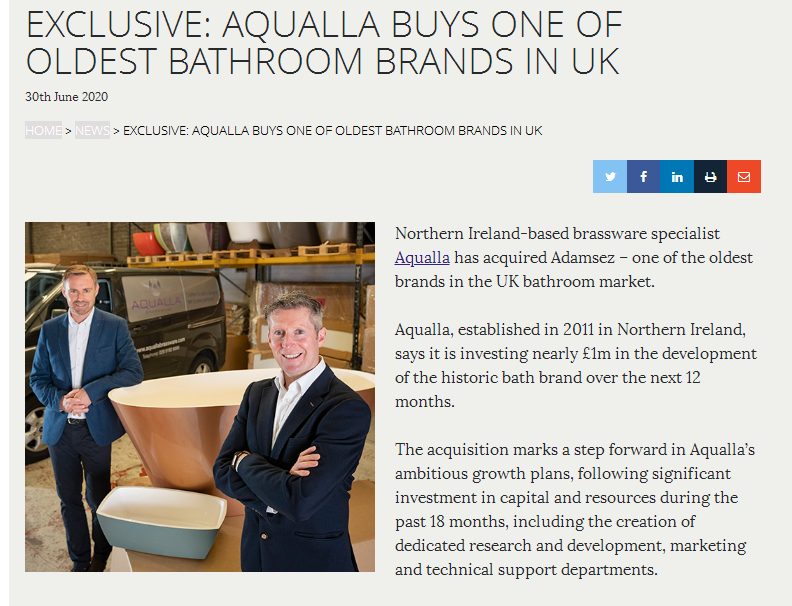 Steven Allaway, Managing Director of Aqualla, said that Aqualla's success stems from the company's continuous provision of first-class products and services. He believes that the Adamsez brand will benefit from the company's strategy. The combination of new and old brands will bring great potential and improve the company's products and services in the sanitary ware industry. The sales director of Aqualla, Noel Daly, also said that Adamsez has an excellent team and a long history. The company aims to give this long-standing brand inject energy, invest in its products and services in the short term and try to relaunch the brand's products at the end of the year.
Aqualla is known to be a young company founded in 2011. Like Adamsez, it is headquartered in Newtownz, Northern Ireland. Over the past 18 months, Aquala has successively established specialized R&D, marketing and after-sales departments, and has invested heavily in capital and resources. The acquisition of Adamsez is also part of the company's expansion strategy. Aqualla mainly produces and sells bathroom hardware products, including faucets, showers, bathroom mirrors, towel racks, and bathroom accessories etc..
On the other hand, Adamsez's brand history can be traced back to 1888. Its main product is a bathtub. Larry Dunlop, the 85-year-old chairman, decided to sell this century-old brand to Aquala after his retirement. Judging from the main products, the businesses of the two companies have certain complementarity, the mergers and acquisitions will help create an integrated bathroom company.
Two Italian sanitary ware companies were acquired
In addition to Aqualla's acquisition of Adamsez, the two recent acquisitions in the foreign bathroom industry have also attracted widespread attention, and the bathroom companies with acquired equity are all Italian companies.
Korean company acquires Italian company Boffi bathroom business
According to South Korean media reports, South Korean private equity company E&F PE recently announced the acquisition of Italian company Boffi's bathroom business,. This is another case after the company previously announced the acquisition of Korean sanitary ware company Inus for KRW 250 billion (about RMB 1.5 billion).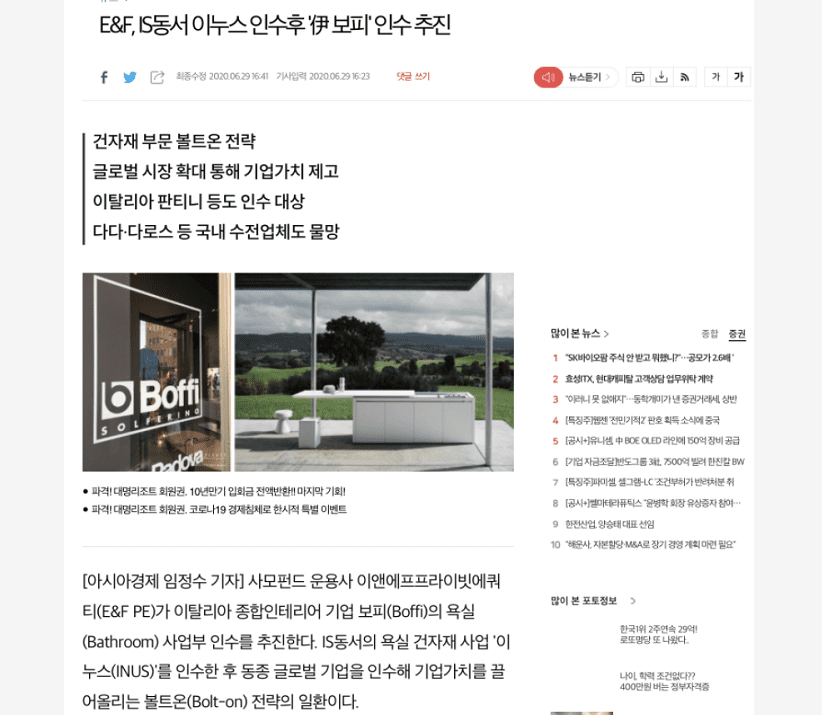 Founded in 1934, Boffi is an Italian company with 86 years of experience. It has a factory of about 7,500 square meters near Milan, mainly engaged in kitchen supplies, bathroom supplies, general furniture and interior decoration, etc.. The annual sales is about EUR 50 million (approximately RMB 400 million). Boffi had intended to enter the Asian market. The company established Asia's first Boffi House in Shanghai in 2017, specializing in cabinet products.
After acquiring the related businesses of Inus and Boffi, E&F PE is also said to be interested in acquiring more sanitary ware companies, including another Italian company, Pantini, and many local sanitary ware companies in South Korea. Among them, Pantini was established in 1947, has now successfully entered more than 65 countries around the world, and is currently seeking to expand its global market share.
Italian company Clerici acquires all shares in Prato Nobili
The subject of another acquisition is also an Italian company. According to Italian media reports, Italian home furnishing company Clerici has recently completed a 100% equity acquisition of Prato Nobili, a competitor of the same country. According to reports, Clerici is Italy's second largest home furnishing company after Cambielli Edil Friuli, accounting for about 10% of the country's market share. Thanks to the policies of acquisition and expansion of the retail network, the company achieved sales of EUR 380 million (approx. RMB 3 billion) in 2019, higher than the EUR 280 million (approx. RMB 2.2 billion) in 2018.
The report pointed out that both companies are family-owned and operated and that their main products are in the kitchen and bathroom sector, including boilers, air conditioners, sanitary facilities, shower equipment, etc. It is reported that the size of the Italian bathroom market is approximately EUR 7 billion (approximately RMB 55.7 billion), of which the bathroom furniture (bathroom cabinets) industry exceeds EUR 2.7 billion (approximately RMB 21.5 billion).
Global Sanitary Industry Accelerates Integration
Looking back at the first half of 2020, there have been multiple equity transactions or acquisitions in the global sanitary industry. For example, Country Garden has successively invested in companies such as D&O Home Collection and Huida Sanitary Ware in the first half of the year to accelerate the layout of the sanitary industry to integrate the supply chain.
Some companies are also making acquisitions to expand into new markets, such as Gobo,  which previously announced the acquisition of Paokin's 51% equity, subsidiary of Thai hai Kin Company, with intention to explore emerging markets. It is reported that Gobo plans to invest USD 28 million (approximately RMB 200 million) with Hai Kin's companies to build a hardware faucet company, which is expected to make products delivery from 2021.
If there is an acquisition, there is a sale. Just as Boffi divested its bathroom business to focus on the kitchen business, there are many companies that want to divestiture their secondary business to focus on the main business. LIXIL Group, for example, successively announced the sale of two subsidiaries, Permasteelisa and Lixil Viva in the first half of the year, in order to withdraw or reduce its business in the two major areas of building curtain walls and building materials stores, thus simplifying its management.
Looking back on the industry's development in the past few years, M&A is one of the main ways of enterprise development. LIXIL Group and SEAGULL are typical examples. On the other hand, divesting secondary businesses and focusing on the main business is also a way for companies to become stronger and bigger, and some companies, by virtue of their niche potential businesses have become the industry's invisible champions. However, both the acquisition and the sale reflect the increasing degree of integration in the industry. And the lack of focus, previously driven by development dividends, has gone are the days of a crude development model.