Kitchen And Bath. Kitchen And Bath Headlines.
On July 8, the Ministry of Industry and Information Technology (MIIT) organized and launched the cultivation of the second batch of "small giants" specialized and especially new enterprises. According to the official document, the selection of the "small giants" is based on improving the country's industrial infrastructure capacity, modernizing the industrial chain and seizing the future industrial high ground. In the field of intelligent production of ceramic sanitary ware, Eftek and Hexiang electromechanical were successfully selected as the first batch of specialized and new "small giants" by the Ministry of Industry and Information Technology, and have become intelligent robot suppliers of top-tier domestic ceramic sanitary brands.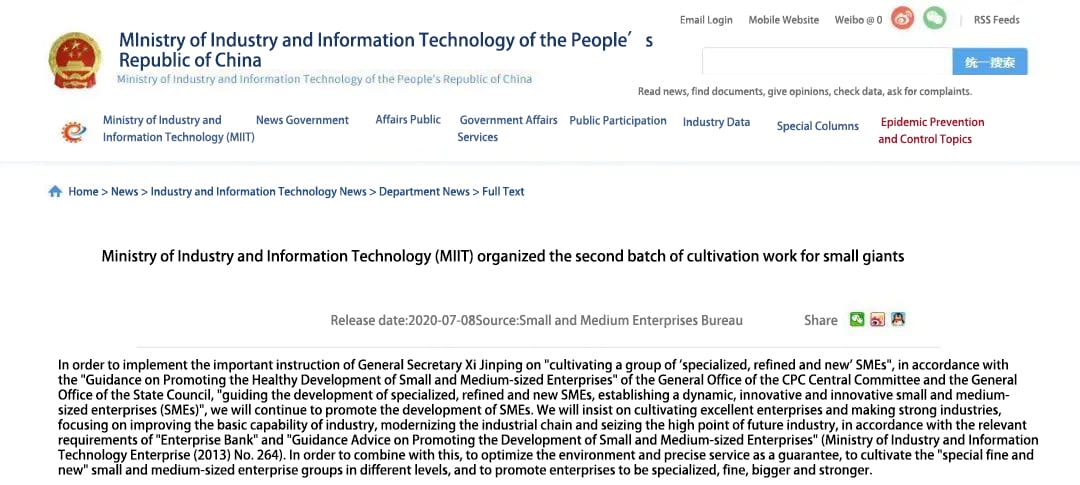 Hexiang Electromechanical.
Undertook The Construction Of A 600,000-Piece Sanitary Ware Plant.
Commended By The President Of Uzbekistan
On June 5 this year, the Tangshan HeXiang Electromechanical Co. (hereinafter referred to as "Hexiang") constructed by Tangshan Hexiang Mechanical and Electrical Co. Shavkat Mirzoyev attended the lighting ceremony and visited the production line of the whole factory built by Hexiang and spoke highly of the projects built by Hexiang. "Construction made contributions.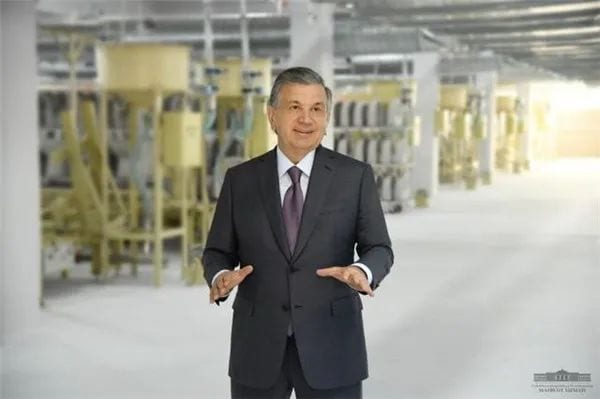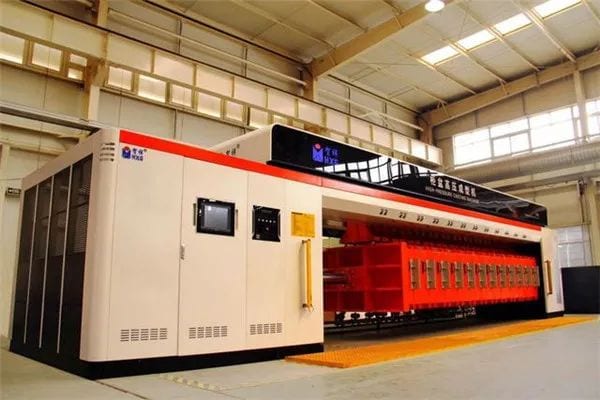 In the first half of 2019, Hexiang electromechanical export volume of 3.2 million U.S. dollars, a rise of 16% over the same period last year, products are exported to Australia, South Korea and other 58 countries and regions. In the "Belt and Road" along the line, Hexiang electromechanical expanded four foreign offices and eight distribution agents. On May 8, Hexiang electromechanical successfully won the first intelligent manufacturing demonstration project in Chaozhou City – "intelligent toilet high-pressure molding equipment, government, bank and enterprise cooperation project.
According to Bohai News, Hexiang electromechanics began in 1999, is a complete set of sanitary ceramic machinery for the leading industry of science and technology-based equipment manufacturing enterprises. After more than 20 years of development, Hexiang electromechanical from a little-known village enterprise growth into a well-known domestic and foreign bathroom equipment enterprises. At present, Hexiang electromechanical has 25 national invention patents and 112 national utility model patents, and the technical level of sanitary ceramics high-pressure injection molding equipment is at the forefront of the industry.
Efte.
Launch Of CREB Listing And Partnerships With Arrow, Dongpeng, New Pearl, Landbond Sanitaryware And Others.
(hereinafter referred to as "Eftek") issued a sponsor letter for the listing on the board of science and technology, Eftek's main business is the research and development, production, and sales of industrial robot core components, complete machines, and system integration, and its main products include industrial robot core components, industrial robot complete machines, and overall solutions for industrial robot system integration.
According to the financial report, the revenue of Efte mainly consists of robotic whole machine and system integration, and the revenue of Efte's robotic whole machine project and system integration project in 2019 was 231 million yuan and 1.019 billion yuan respectively.The total assets of Efte in 2019 were 2.798 billion yuan, the operating income was 1.268 billion yuan, and the net profit was -53.187 million yuan.In 2018 Eft had total assets of $2.874 billion, operating income of 1.314 billion yuan, and net income of – 25,573,600 yuan.
As of the date of signing the sponsorship, Evette is engaged in a total of 37 research and development projects. Among them, "bathroom ceramic manufacturing robot automated production demonstration line" project is its core project for the bathroom industry. At present, the project is in the development stage, with a budget of 7,118,300 yuan, and will reach the leading level in China upon completion.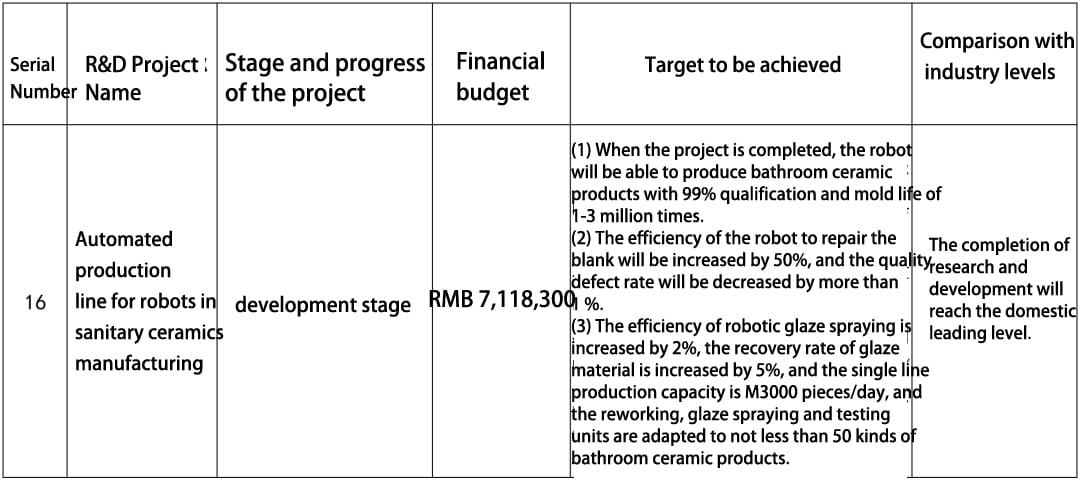 Midea.
Industrial Automation, To Build The First Fully Automated Assembly Assembly Line Bathroom
On March 25, Guangdong Midea Heating and Ventilating Equipment Co., Ltd. acquired 209 million shares (about 18.73% of the company's total share capital) and 55,747,300 shares (about 5% of the company's total share capital) of voting rights of He Kangxineng by agreement, with a term of 15 months from the date of delivery. Upon the completion of the transaction, Midea Group will become the indirect controlling shareholder of He Kangxineng and He Xiangjian will become the de facto controller of He Kangxineng.
Previously, Midea Group had completed the industrial automation industry chain layout through a joint venture with Yaskawa, the acquisition of a 17.8% stake in Anhui Eft, the acquisition of Kuka and the acquisition of Servotronix, an Israeli upstream company. In 2019, Midea established the Kuka China Division, covering robotics ontology, flexible systems, general industrial automation, intelligent logistics automation and intelligent medical automation, etc. business. In addition, Midea and Kuka also set up three joint ventures in 2018, and the synergistic advantages of the two sides are beginning to show.
In October 2019, Midea Industrial Automation helped to build the country's first independent research and development of automatic assembly of the whole bathroom production line was officially put into production. Among them, Midea industrial automation independent research and development of the whole bathroom tile wall plate foaming line robot workstation is launched for the customer tile wall plate foaming line automation production needs, involving processes including spray release agent, tile positioning, put tile, shape detection, position detection, back glue, sheet metal parts feeding, front seam, seam cleaning agent, etc., and realize these processes of robot automatic production.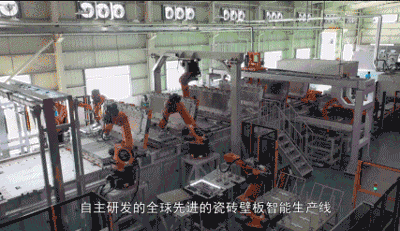 Midea automatic assembly complete bathroom production line is the first independent research and development of automatic bathroom production line, and traditional manual production, the production line has obvious advantages: 11 Kuka robots to achieve the automation of 9 stations, flexible production line is compatible with the production of more than 40 kinds of products, the robot automatic tiling accuracy control within 0.1mm, production efficiency increased by 10 times.
Bozhilin.
Helping Country Garden Build A Pan-Home Intelligent Industrial Park
According to an announcement from the Yangzhou Jiangdu District People's Government, the Yangzhou Bozhilin Intelligent Manufacturing Project officially started construction on January 3 this year. Ltd., a subsidiary of Country Garden Group, with a total investment of 3 billion yuan, of which 1 billion yuan is invested in the first phase of the project. About 200 mu, the construction of 2 aluminum die-casting production lines, 2 intelligent climbing frame production lines. The project adopts fully automatic production line, realizing intelligent equipment, intelligent engineering and intelligent logistics.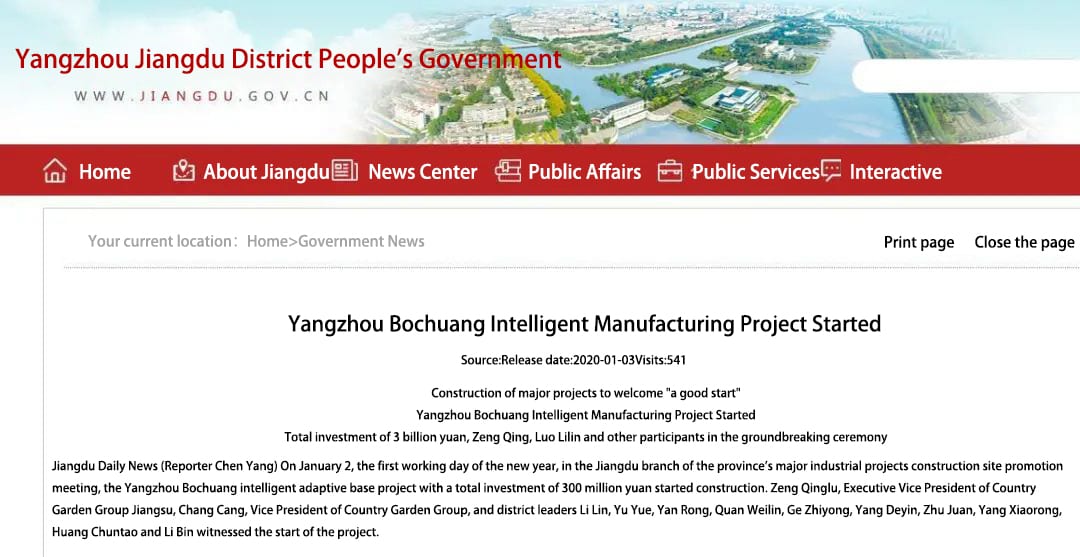 On May 9, Chaozhou city government also released an announcement that it will speed up the construction of Country Garden Smart Sanitary Ware (Chaozhou) Industrial Park project. The total investment of Country Garden Smart Sanitary Ware (Chaozhou) Industrial Park project is over 10 billion yuan, and the project will be built in three phases. The project will introduce advanced equipment and design at home and abroad, and turn the plant into a research and development, design, production and sales in one, in line with Industry 4.0 smart sanitary products manufacturing enterprise. After the project is fully completed, the annual production capacity will reach 5.4 million pieces (sets) of smart sanitary products.
In August this year, Country Garden has terminated its strategic investment in Mongnls, Diou Home, Huida Sanitary Ware, and is walking a path of independent innovation in the layout of the intelligent pan-home industry chain, relying on Bozhilin. In its 2020 mid-year report, Country Garden mentions words like robotics, construction industrialization and assembly, and says that since Country Garden Bozhilin robotics project started construction in July 2018, focusing on construction robotics, BIM, new assembly and related core technologies, it has recruited 3,604 domestic and foreign Excellent R & D personnel, to carry out research and development, production and application of building robots and related intelligent construction equipment, assembly, etc., a cumulative total of 2,314 patent applications submitted, authorized 567, with a number of independent core technologies in key areas.
Sanitary ware enterprise intelligent in addition to independent innovation, but also in the introduction of foreign advanced technology, talent, industrial model and other aspects of force. In addition to independent innovation Bozhilin, in the layout of the smart home industry, a total investment of 2.3 billion yuan Country Garden-modern Chikumei green smart home industrial park, to be used is to use the European intelligent 4.0 home industry technology. In the field of intelligence, the United States Kohler is also trying to cooperate with Japan's FANUC robot. In the future, intelligent home and bathroom, the internationalization of industrial cooperation will be the trend.