Every coin has 2 sides, but some people still can't decide which design is best for their kitchen. Each has it's own advantages and disadvantages, but brands tend to pay more attention to pull-down faucets when develop models. This can be confusing for customers who may like the design of a pull-out faucet but cannot find a faucet with the features they like. The biggest problem is not finding the perfect removable key with all the functions you want, but finding a folding key with similar functions and at a better price.
What's the best thing you can do in such a situation?
That's exactly where this guide is going to tell, It will help you make the best decisions so that you will not regret your purchase. While the faucet hole size are the same 35mm diameter, how to choose a suitable one for your kitchen? Returning an unsatisfactory kitchen faucet is a burden to both consumers and businesses. With this guide, you can make the right decisions right from the start and don't have to worry about deferring critical installations. Below is a detailed list of the strengths and weaknesses of full-out and pull-down faucets.
Pull Down Kitchen faucets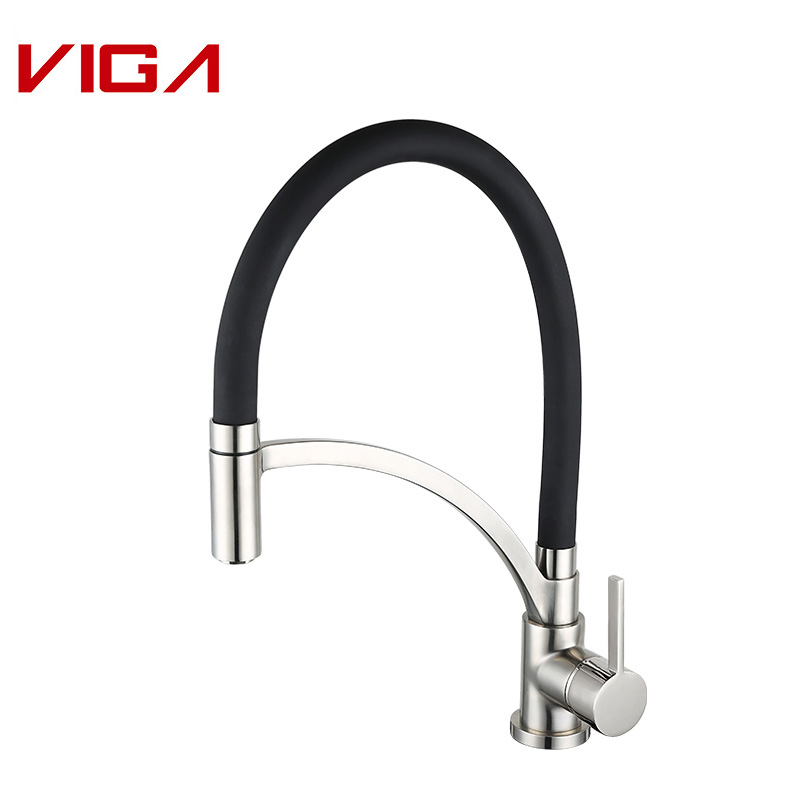 The queen in the kitchen faucet industry, the pull-down kitchen faucet, with millions being sold every year. This beautiful high arched faucet has many designs that will quickly raise the wow factor to any kitchen. It's hard to experience all the different styles and designs, but they're very faithful.
There is also the nice spray head that can be used in combination with many features not included in the pull out faucet. If you're using a unmovable kitchen faucet, pull-down is the right choice, and in fact, the only way! Therefore, for modern users designing modern kitchens, looking at a drawer-type faucet does not help to achieve this. Accurate measurements are very important when choosing a pull-down style, as problems occur when the sink is small.
It is right in the center of the sink without any compromise where it is needed when the faucet is fixed. To replenish the space it occupies, most models do rotate, but not all models rotate 360 ​​degrees. It's not a big deal in theory, and it may seem like, but when working in a confined space, you can completely change the world by adding 180 degrees.
In the past, pull-out faucets had the advantage of making hoses easier to manage and more problematic. Over the years, smaller products have been followed by larger brand manufacturers that have solved this problem. So now there is no big difference between a full out faucet hose and a pull down faucet hose. In households with low water pressure, there may be problems with the pull-down faucet, which is to be expected. Consumers will find that within the next few years there will be considerable pressure on pull-out faucets as major companies continue to innovate, which will eventually leave behind pull-out faucets.
This does not mean that the pull-down faucet is outdated, it just means that the pull-down faucet has a higher priority in the market. This is an old case. As the number of sinks corresponding to the design of pull-down faucets increases, the difference in faucets is becoming a problem. When this problem is completely eradicated, drawer faucets will overtake other models and become a traditional choice rather than a modern or contemporary choice.
Pull Out Kitchen Faucet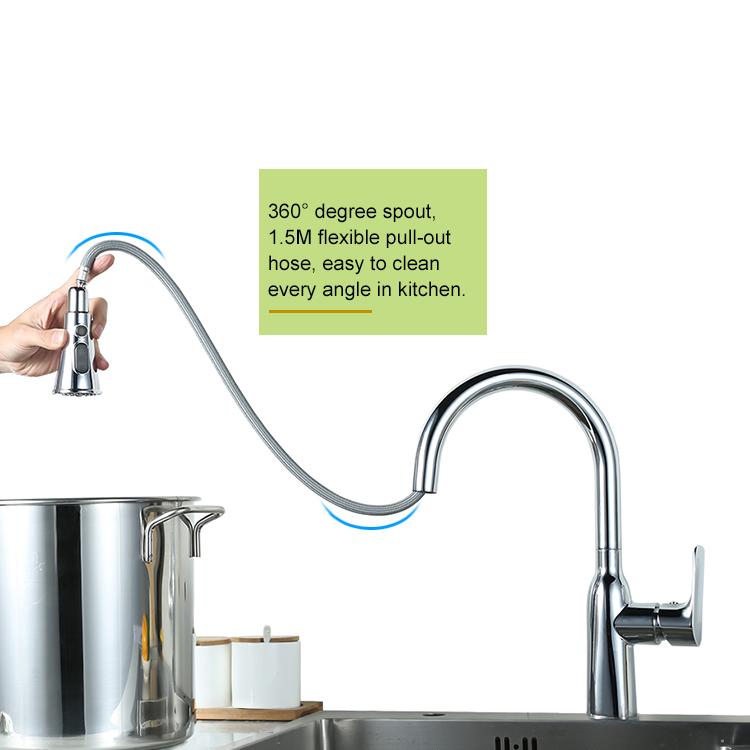 These found a way to enter another room in the house instead, in some of its uncommon homes in the kitchen. The pull-out faucet, which is considered a secondary to the pull-down faucet style, both attractively and for sale, is a good example of the vulnerable who are worth the opportunity. The pull-out faucet works even in areas with small sinks due to its smart design.
Pull-down faucets often have a high arc and make up for occupancy by providing 190- or 360-degree rotation support. When using a drawer-type faucet, that permission is unnecessary, reducing the user's hassle. The shorter spout also solves the problem of not placing directly in the middle of a high arched faucet sink when stationary.
This makes the design awkward and pulls the spray head down to fill the pot with water. The pull-out faucet is designed with space saving in mind, regardless of whether it's a small or large sink. In this regard, you can get the benefits of both worlds, but the amount of full-out faucets offered is a slimmer choice compared to the pull-down model.
This minimizes the choice of design and style and allows buyers to settle for an unwanted appearance. Consumers who prefer a kitchen faucet 2 lever system will also find drawer faucets suitable. This could be a major selling point for users who have not yet adopted single-lever systems.
Conclusion
After explaining the advantages and disadvantages of the two kitchen faucet designs, customers can call wherever they want to spend their money. Pull-out faucets are known to be much cheaper, but purchases shouldn't be the most important criterion, especially if they need to last for years. Take the time to read this guide and you'll find exactly what you need to make your kitchen stand out and refine.
VIGA FAUCET is a 12 years kitchen faucet manufacturer, we can offer you the best solution to start your faucet business.
Contact us by sending email to info@vigafaucet.com, VIGA is always here.