Kitchen And Bath. Kitchen And Bath Headlines.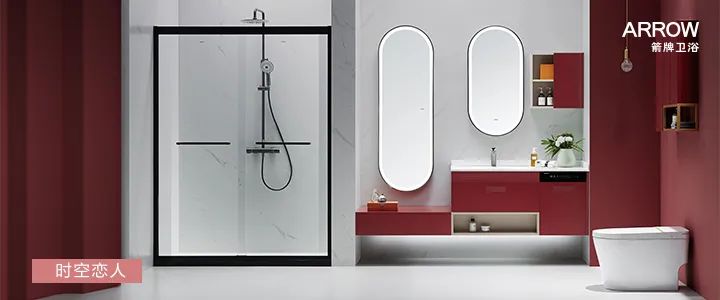 The 35th Foshan Ceramic Fair is underway, Kitchen King stormed a number of exhibition venues, and found a number of domestic and foreign brands are on the new products, Moen, Kohler, Arrow, SSWW and other brands of intelligent toilet lineup collective "renewed", Digu, Dusha, MAXI, Ballee, etc. The brand exhibited the hot slate bathroom cabinet, other brands also brought a modern minimalist, or classical luxury, or the main color of the product. The new products, once again, became the focal point of the bathroom brand showroom in Tao Expo.
Moen
Moen Walden series smart toilet, the right triangle control version of the patented design, unique shape, comfortable to the touch, with a metallic color, the upper flush button, the lower row of buttons to operate the cleaning, gynecological cleaning, etc. The toilet can also be operated through the wall-mounted remote control and mobile phone APP. The toilet can also be operated by a wall-mounted remote control and mobile phone app.
Moen also showcased a number of faucets, including a variety of bathroom faucets with a pull-out design that can be used for a variety of purposes, even for washing hair.
Kohler
Kohler's high-end smart toilets were on display, including NUMI+, EIR, VEIL+ and so on. In addition, Kohler also displayed a large number of smart toilet seat, ceramic toilet and other products.
NUMI+ is one of Kohler's iconic products, and its flip-top lid is full of technology and fascinates people.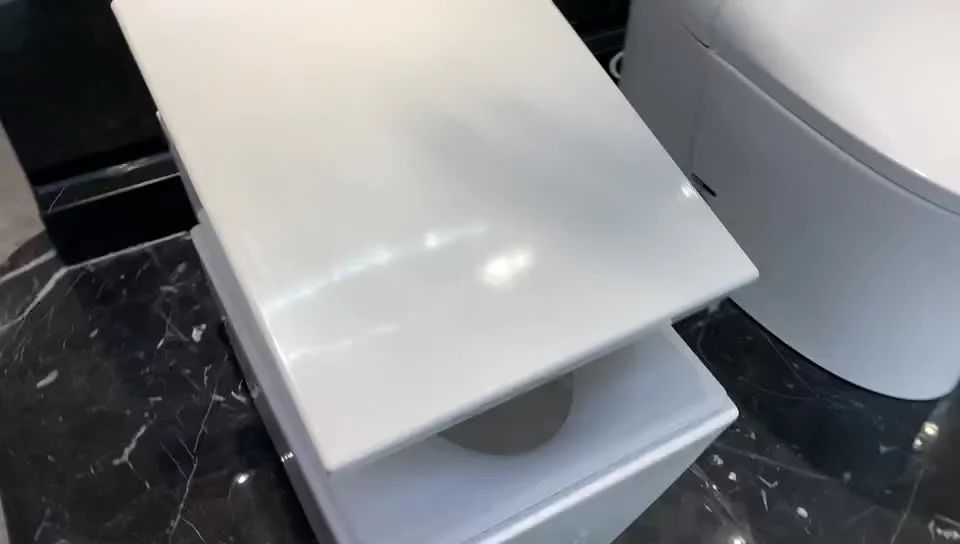 Arrow
Arrow Foshan Yimei home bathroom ceramic world of the showroom focused on the V7 Fu Series Smart Toilet, this product can automatically sensor flip the lid, touch-free, sanitary and convenient; with a men's function – waving hand flip lap, identify men after urinating automatically flush, leave automatically close the lid closed loop; there is a hip cleaning function, when the time to Heated live water is ejected from the spray gun, eliminating the need for pre-storage and automatically draining the remaining hot water after use, eliminating the growth of bacteria.
SSWW
SSWW new smart toilet, with an integrated seamless leak-proof design, ceramic surface with anti-fouling nano self-cleaning glaze, the toilet is also energy-saving, silent, super siphon and other features, the side of the rotary button also makes the operation more convenient.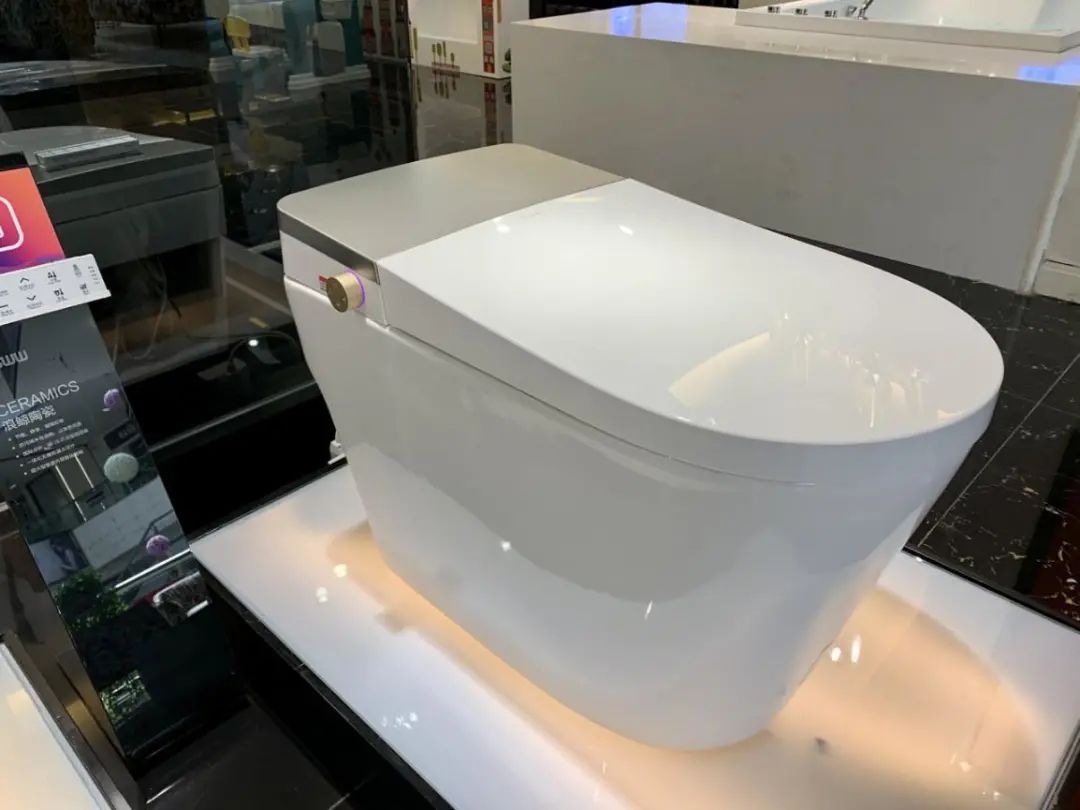 SSWW also exhibited classic European classic bathroom cabinet products, feeling that this product recently has a "resurgence" signs.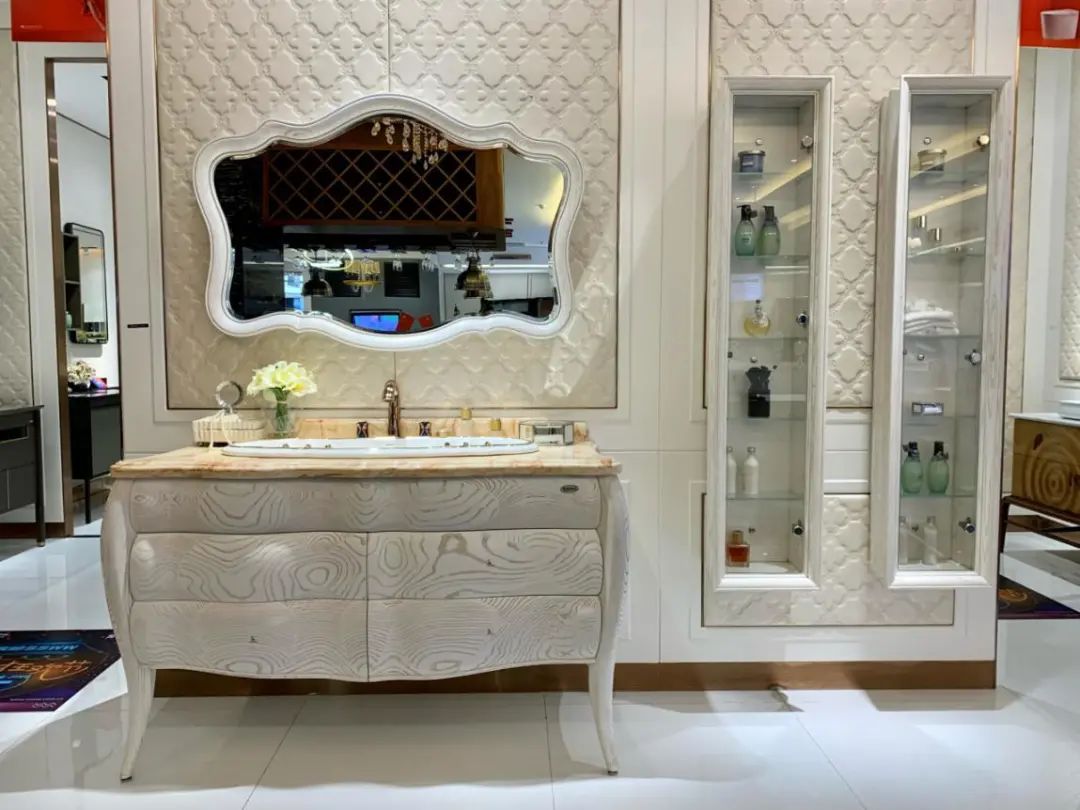 Grohe
Sensia ARENA Smart Toilet, with SIAA antibacterial certification, water consumption of the optimal level 1, and the introduction of ionic sterilization, water porcelain super-clean, anti-bacterial surface technology, has won more than 10 international design awards.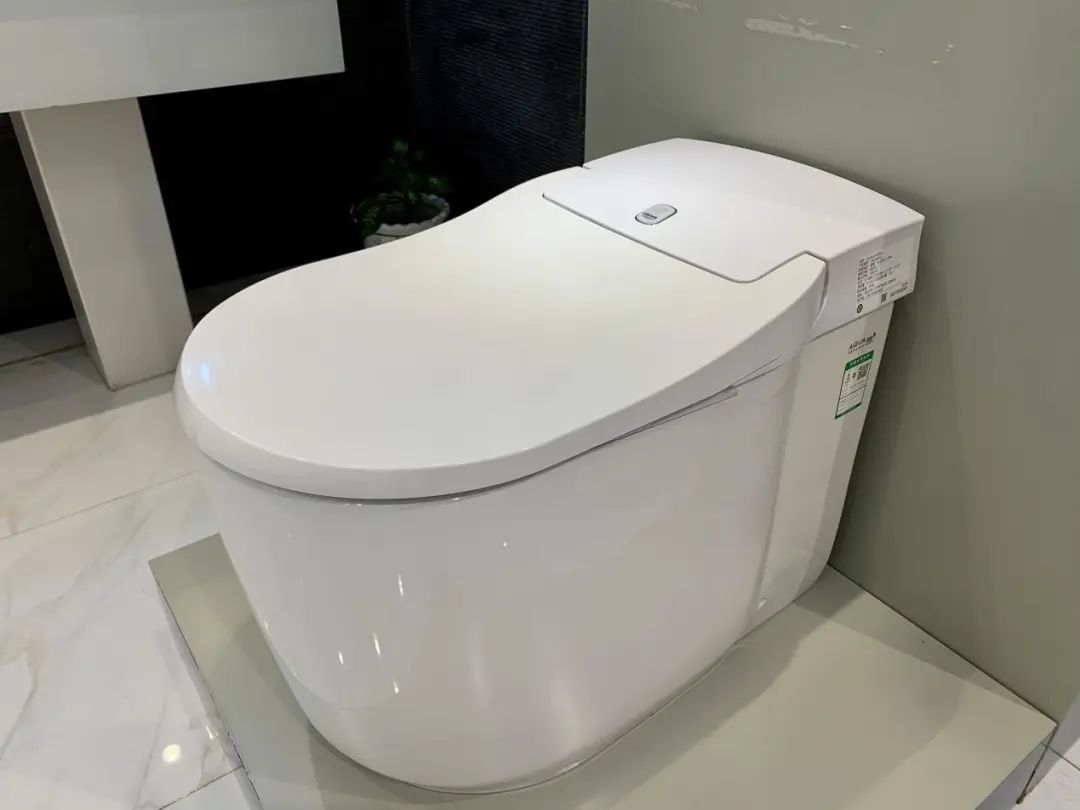 FADORE
FADORE's bathroom cabinets are known for their unique style. This colourful bathroom cabinet has a bold colour scheme and a beveled edge on the front, with a mirror, pendant, bathtub, etc. that creates a strong sense of unity with the main cabinet.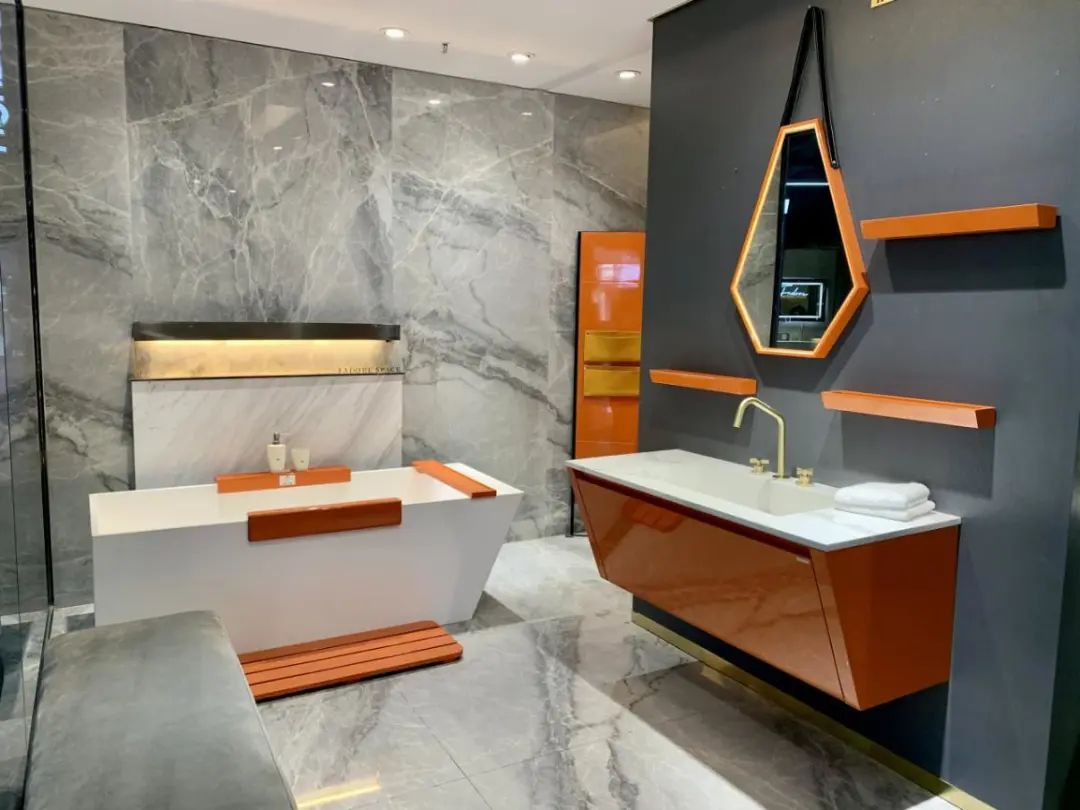 Digu
Digu exhibited a large number of rock slate bathroom cabinets. According to the showroom staff, rock slab bathroom cabinets have been popular since last year, and Digu has joined this trend by launching several rock slab bathroom cabinets in collaboration with tile brand Delphine, with a rock slab countertop and a rock slab countertop and basin as a whole, the latter with more stringent requirements for craftsmanship.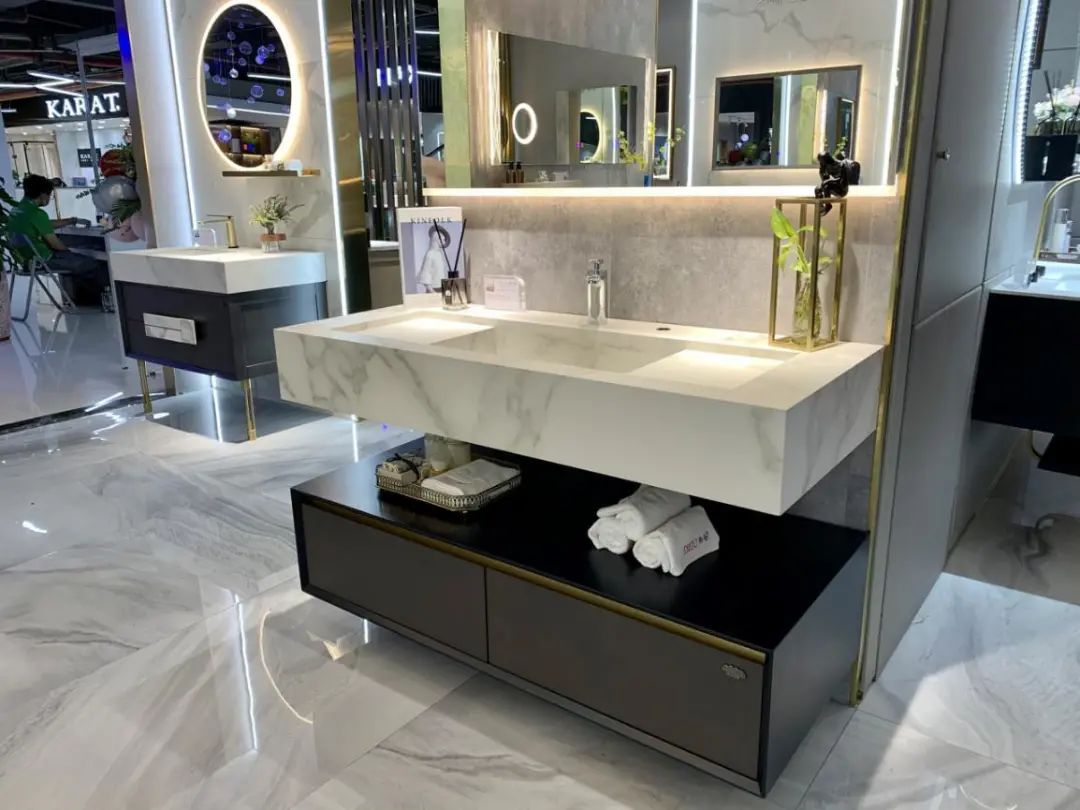 Art Deco Taitao Bathrooms
A combination of bathroom cabinets, wardrobes and shelves that can be customized to fit the space.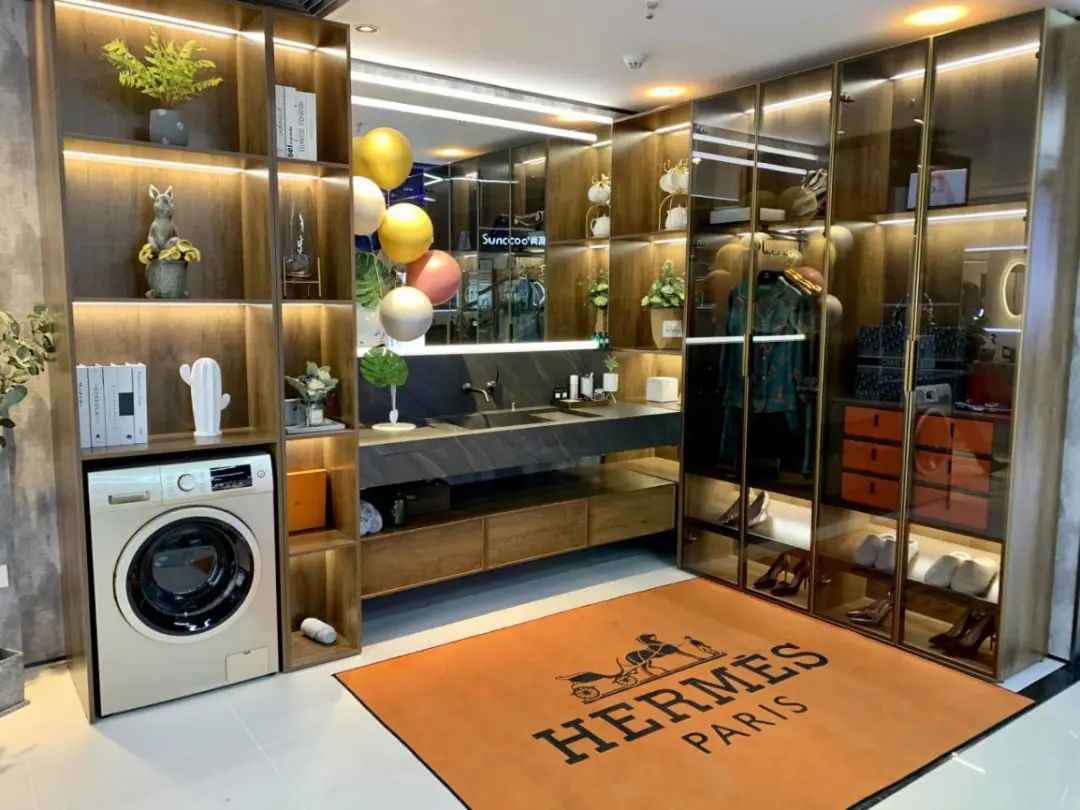 WolkeSieben
WolkeSieben's products are uniquely shaped, and this bathroom cabinet has a wavy basin section and shelves under the mirror, which gives the cabinet a moody look.
Mumuchun
Mumuchun has been specializing in vintage bathroom cabinets for more than 10 years, mostly made of wood, with a unique design style that is unique in the bathroom and even furniture world.
Dusha
Dusha Bathroom's products are simple, practical and affordable, and it has recently introduced a variety of rock slab bathroom cabinets.
MAXI
The main cabinet of this product is in a peacock green hue, and the countertop is made of Karaka white rock slate, so you can see that rock slate and bathroom cabinets can play a lot of tricks together.
The countertop and cabinet are both in similar colors, with obvious corners and shapes, showing the hard-core style; the countertop and sink are integrated, which is a test of manufacturing technology.
Sun-Coo
Sun-Coo showcased two colorful bathroom cabinets with glass-like countertops that display a translucent sheen of color, a design that is unique in the showroom.
Ballee
Ballee's two rock slab bathroom cabinets have a more conventional look, but the hardware is meticulously polished.
Langdeng
New Chinese bathroom cabinet, door handles, mirror pendant design with Chinese elements, two-tone washbasin noble show off.
Tancai
The fact that Tancai still insists on offering this kind of complex and luxurious products in spite of the prevailing "aloof" style is admirable. However, design trends are a cyclical process and may soon bring back the classic European luxury.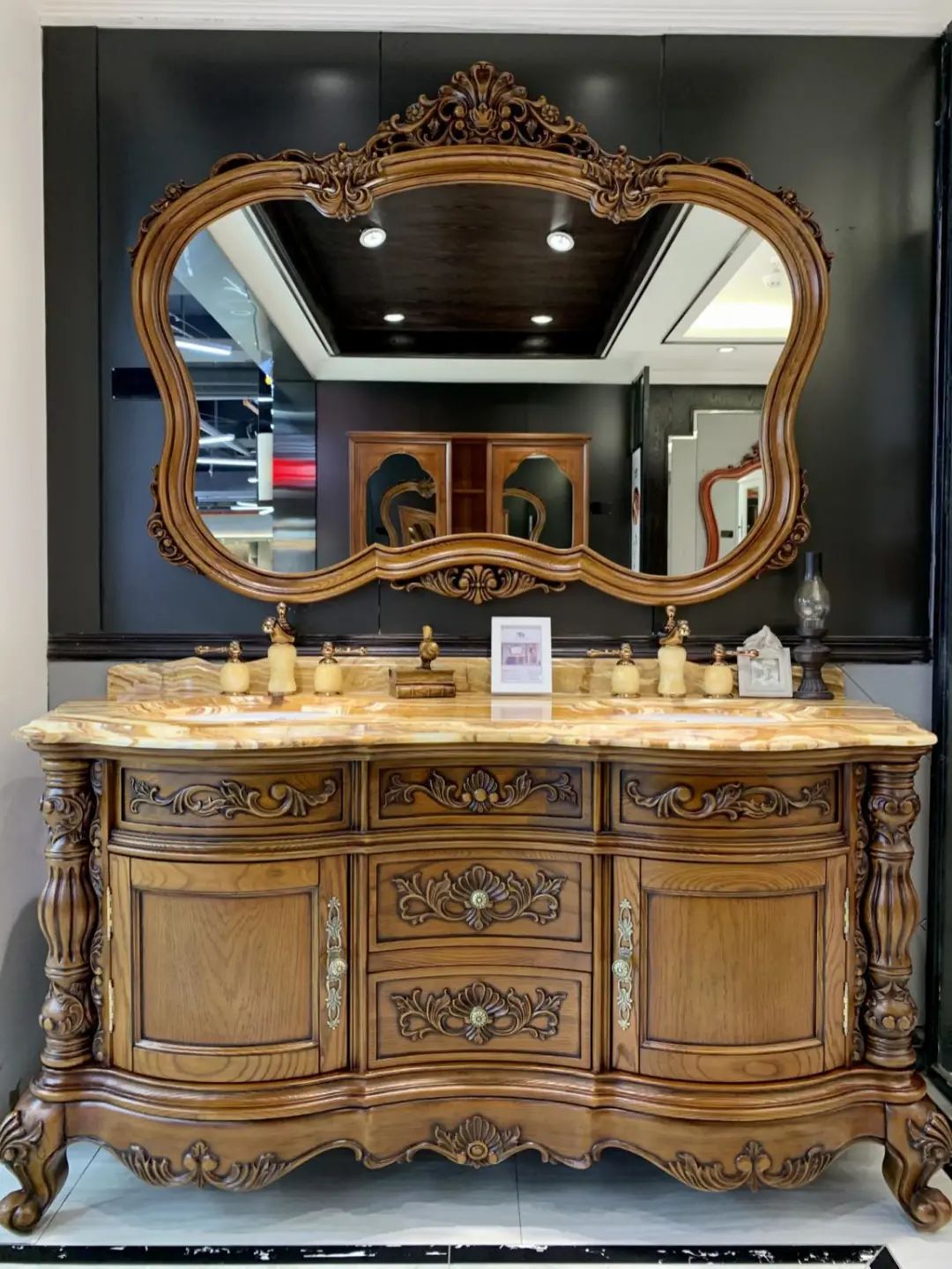 Sanya
The "Sanya" intelligent toilet exhibited by a subsidiary of the East Sunshine Group covers knobs, buttons and other modes of operation, and the product has also obtained domestic and international certification, including the EU CE certification. The new "only Duo" series of the main color, the back cover has different colors for choice to meet individual needs.
Tona bathroom
Half wall-mounted bathroom cabinet, single-leg design, the main cabinet panel with water drip waves of convex texture, feel is not cold feeling, has a similar texture of plaster; countertop simple design also let this product has a larger shelf space, beautiful and practical.
Shuangjiekang
Wenzhou smart toilet brand Shuangjiekang showed a variety of products in the Foshan exhibition hall. The new products use the company's sixth generation filter, which can block impurities; equipped with constant pressure protection device to adapt to high and low water pressure users, as well as waterless power, to prevent secondary leakage, the seat anti-scald triple security.